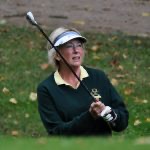 We are proud to be the first Club in Northamptonshire to adopt The Women in Golf Charter and we thank the R and A for this opportunity. It is of no surprise that we as a Club fully support this campaign, as my key objective as both Club Chair and Charter Champion is to ensure our Club is fully inclusive and has a diverse membership. To read more about our Charter please click here.

Whether you want to play for fun or join our winning teams we can offer you a friendly and welcoming place to play!

Veronica Lyon

Charter Champion
New to the Game?
In association with our Golf Professional, we run sessions either in groups or individually for new players. These sessions provide an excellent way to find out if the game is for you in a relaxed and fun manner. For further information please click here.
Women's Section
Our Women's section is a friendly group who welcomes all new members whether they wish to play competitively or purely for fun. Once a player has progressed from the Academy or if they are new to the Club, a member will ensure that the new member is welcomed to the section and helped in whatever capacity is needed. It is important to us that the game is enjoyed and that the member gets the most out of their membership. We find this "buddy" system helps the golfer improve their game and enjoyment.
Having won the Cecil Leitch Cup two years in a row, we welcome anyone who wants to join us and play in such competitions and matches. We host and attend Women's Opens and have combined our Open with a lifestyle exhibition enabling local businesses to promote their services/products. We regularly hold successful social and charity events – ranging from fashion shows, health promotions, Macmillan Coffee events to quiz nights. Whether you are looking for a full social diary or maybe just a coffee after the game you will always be welcome.