"My name is Sam Beckett, I am the PGA Professional based at Oundle Golf Club. I became fully qualified as a PGA Professional in 2018 after completing the PGA Foundation Degree at Birmingham University. I aim to offer the best service and advice possible and to all".
---
Lessons
Sam offers coaching either on a 1:1 basis or in small groups for complete beginners or for those golfers requiring adjustment to their game. Alongside these sessions Sam runs taster sessions and youth coaching at the weekend, further details are available on his website accessible by clicking here. Lessons can be purchased individually or in packages and can be booked online. Lessons can take place either outdoors or in the new swing studio.
Swing Studio
The swing studio enables all year round coaching either used to play a round, refine techniques or part of learning golf. It is also ideal for those who wish to get practise in prior to competitions or return to the game after injury and may not be ready to play outdoors. The swing studio can also be hired individually or in pairs.  Sam also uses the swing studio for customised club and ball fitting to ensure that you are using the right equipment for your golfing style.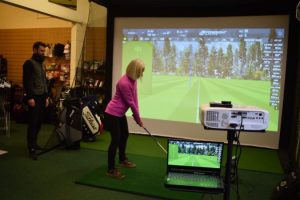 For a full price list including coaching, swing studio hire, fitting service etc please click here. Vouchers are also available which can be used across all services in the Pro shop.
https://www.facebook.com/watch/?v=289618535339256
To keep up to date with late availability and other offers please follow Sam on his social media or sign up to his mailing list by clicking here.
Equipment and Clothing
Alongside the Club shop Sam also has an online shop with a "Click & Collect" service supplying golf equipment and clothing from major brands at competitive prices. To visit his online store please click here.